War theorists tell us nations tend to prepare for their last war rather than the next one. Nations should instead prepare for the prior PRIOR war. I mean, just as we got ready for the global war on terrorism, we jump back into the Cold War. Just as we wrap up the war on drugs and start legalizing pot, we should start getting ready for another prohibition of alcohol as we see a dangerous explosion of radical
Straight Edgers
smashing barrels of whisky and grilling zucchini without the use of butter.
Historians tell us that paying attention in history class dooms us not only to poor history grades, but blundering through other historic mistakes:
to start land wars in Asia,
to invest in the stock market in 1928, and
You know, since those who don't pay attention to history are doomed to repeat its mistakes. Whoops! I accidentally
Gallipoli
!
Economists don't bother with the paying attention part. They simply tell us that we're doomed to make mistakes. For instance, in 2007 when we thought we'd lost all the money we didn't have but owed to our mortgages, we then lost even more money we owed (to our banks). That was economics at its purest--do what you will, the market will screw you in the end, and you deserved it because you assumed you knew better than the invisible hand.
Cycling experts (that's what I purport to be) tell us, similarly (I'm telling you now) that even though the scourge of performance enhancing drugs (PEDs) is completely eradicated from the peleton, another form of PED is endangering the viability of bike racing as we know it.
Yes, I'm talking about
plumage enhancing dressage
.
Plumage enhancing dressage is a dangerous form of accessorizing that has arisen in cycling in the last several years--coincidentally, as doping has moved toward extinction. Grown ass men find themselves drawn towards satanic hypercolor.
Among the first experimentalist in the trend was long-time PEDer Chris Horner: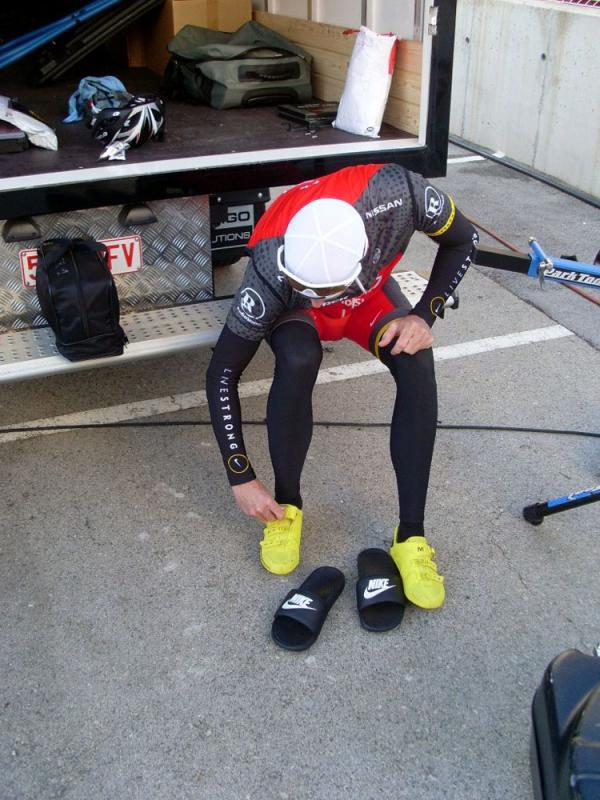 In this picture, from 1874, Horner laces up the first known instance of epilepsy yellow known to exist, made from
spent radioactive Marie Curie spittoon juice
. The radioactivity numbs the pain, according to Horner.
Slowly, this PED trend trickled down to local cyclists and local plumage. Among the worst offenders is the recently formed District Taco Psychling, a kit designed while enjoying tacos de
Psilocybin.
A recent investigation uncovered plummage enhancing dressage (PED) even among my own team. At the recent Morgantown startline, one of my team members, the Butterscotch Stallion, had the citric fortitude to done this assemblage. Woven from traffic cones, discarded Bert 'n Ernie corpses, and irradiated at the new Fukushima clothing factory, this one piece fingertip to fingertip "chestitard" or "arm
dicky"
strikes a dangerous and stomach churning tone.
The scary part about this is that this was clearly a pre-planned eyerape, since the full matching helmet, frame, and arm dicky suggest first degree forethought.
Plummage enhancing dressage enthusiast suggest an inverse correlation, historically, between drug use and fluorescence use. That is, prior to the introduction of EPO, riders doped their dressage with kits like this:
And glasses and bikes like this:
And this:
They even wore aero road helmets like this:
Seems familiar, doesn't it
?
The theory of inverse correlation between drugs and dressage, however, fails to account for that brief period where the two existed concurrently in the 1990s, the accessorization equivalence of dinosaurs and humans walking together.
Cipollini surely spoke to excess, both sartorially and in mind and body altering substances as well as, purportedly, man on woman/beast/bike lovemaking.
Then again, cycling has consistently believed in performance enhancing dressage. Look no further than the maillot jeune and the maglia rosa, the leader's jersey of the two biggest events in the sport. We honor the riders by giving them shirts of the most outrageous tones we can imagine; we assume it either gives them a power or reveals a kind of superpower.
And perhaps it does. As if by magic, one look at what this guy's wearing and I'm feeling a little ill.