Outside Magazine

--the rag that Lance built--recently posted a downright libelous piece on Froome. The article draws on the assertions of

Antoine Vayer

and

Science of Sport

and

Cyclismas

in suggesting, merely by how fast he's going, that Froome is doping.


Froome's extraordinary performance Extraordinary fast

The specific instance of their analysis is his attack on Ax-3 Domaines, where he gained minutes on the field. Ax-3 has been used in the Tour going back through (but not prior to) the EPO era. Here's how Froome's performance rated:

1. Laiseka 22:57, 2001


2. Armstrong 22:59, 2001

3. Froome 23:14, 2013

4. Ulrich 23:17, 2003

5. Zubeldia 23:19, 2003

6. Ulrich 23:22, 2001


7. Armstrong 23:24, 2003

8. Vinokourov 23:34, 2003


9. Basso 23:36, 2003


10. Armstrong 23:40, 2005

...

22. Porte 24:05, 2013

...


34. Valverde 24:22, 2013

Put in the mere context of time--how long it takes to climb a mountain--Froome's performance should raise eyebrows for several reasons: (1) he was faster than confessed dopers; (2) he was much faster than his closest competition.

The second part of this is especially important, since it suggest that the speed wasn't influenced by external factors: wind, change in pavement smoothness, bike equipment, and so forth. It means that it was Froome, not the conditions, that was extraordinary.


Extraordinary W/kg

If it were left at this, there would be little controversy. After all, we have the numbers in front of us--the clock doesn't lie, but then, it also doesn't tell the full story, as those of us on Strava know.

But Vayer and company go on.

They have bought into two premises:

(1) Using nothing more than a stopwatch, gradient, and rough wind speed, anyone can estimate the performance (w/kg) of anyone;

(2) Performance above a certain level is evidence of performance enhancing drug use.

The idea that we can know dopers by their estimated W/kg has been around for years. Science of Sport advanced the idea with their wonderful analysis of Contador's 2009 attack on Verbier. They estimated Contador's relative power output to be 6.78 W/kg.

Recently those who use estimated W/kg have become more bold, using it less as a comparative tool, more as evidence. These have have found an eager audience following Armstrong's confession.

There has also been a backlash from a number of top sports scientists. Their response, too often, has been that of

Hunter Allen

: Trust me. I'm an expert. It's the same response we used to get from Chris Carmichael. It's deeply patronizing, since it doesn't address the question; it merely says, "trust me [because I'm smarter than you]."

Allen's partner in writing, Andy Coggan, pointed to a

more reasoned response on Aeroweenie's blog

. We can't estimate Watts/kg, the author asserts, because the range of possible estimation is too large. Just a few pounds difference in rider weight, wind speed, or the effect of drafting can skew results. Stick with speed as a necessarily vague estimator of output, he suggests.

This all could be avoided if Froome had continued to publicize his power data, as he once did. Before he joined Sky, Froome provided his power data to

Bike Pure

. He stopped sending the group his data 18 months ago, and with no explanation.

Froome may have good reasons for keeping his training data secret, but a number of riders now freely publish their rides or upload Strava segments, Sky teammate

Joe Dombrowski

and

Laurens ten Dam

being among the most open with this kind of information. Ten Dam's openness with his data hasn't prevented him from riding into the top ten in this year's Tour.

Nor has it stopped ten Dam from driving a sweet Chevy van:

Extraordinary VAM

Well, if we can't get Froome's power and weight, are we stuck with mere speed? No. We can also take into account his vertical movement--find out how fast Froome went up the mountain. Simple. Right?

The metric for measuring speed up a mountain is VAM--vertical ascent meters/hour. The formula for calculating VAM is:

Meters ascended * 60 / minutes

Ax-3 Domaines' climb is 670 meters, and the ascent took Froome 22:14.

Plugging in the data:

670*60/22.23 =

1,808 VAM

How does Frome's 1,808 compare with the climbers of the past--particularly the doped climbers? Well, quite well. Here's a graphic showing the highest recorded VAMs of major climbs of the Tour:
(Courtesy Science of Sport)
Using VAM as a metric puts Froome's performance on or above the level of the all-time champs of doping.
Extraordinary? Yes. Certainly drug-enhanced? No.
Froome's defenders can point to two variables thus far overlooked (aside from the flaws in the W/kg estimation model): duration and steepness.
Those of us with Hunter and Coggan's excellent book are aware of the notion of the power profile. The power profile illustrates what we all already know--that our average W/kg for a sprint is different than our average W/kg for a longer effort.
Many of us have plotted out our profiles. They look something like this: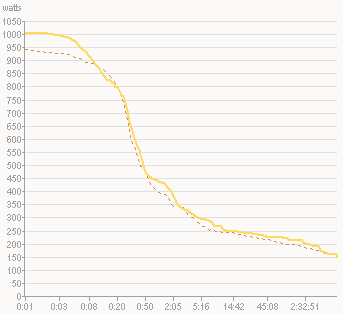 The shape of the curve indicates the type of rider. This graph, for instance, has mapped two power curves. The yellow line indicates a profile capable of averaging 250w for 20 minute efforts and somewhere near 240 for 45 minutes.
Ax-3 Domaines is a short climb, about the same length as Verbier (640m), but Froome's VAM is much less than Contador's 2009 effort on Verbier.
Those who argue for Froome could point to the relative shortness of his effort on Ax-3 Domaines. Of course Froome was fast up a 22-minute climb! It's half the length of Ventuox!
Note, if Froome maintains a 1808 VAM on Ventoux on stage 15 when the Tour moves to the Alps, this argument will no longer apply.
Further to Froome's benefit is slope. As even Michele Ferrari in his own analysis suggests, steeper climbs yield higher VAMs. Ax-3 Domaines is significantly steeper (at 8%) than Verbier (7.1%). This means his performance is less extraordinary, relative to Contador's 2009 ascent of Verbier.
While not clearing Froome of suspicion, the steepness of Ax-3, along with its shortness, suggests that his performance, while extraordinary, still falls short of the juiced era's best.
Conclusion
We have to travel backwards three decades to unearth a performance we can feel certain was unaided by EPO. Such have been the revelations of the past year. Skepticism toward the extraordinary in this context? Well, it's due.
But we should also hold out hope. One thing David Millar's wonderful memoir, Racing Through the Dark, argues is that clean cyclists can compete with and sometimes triumph, even against dopers. This suggests that the benefits of doping are perhaps not as massive as we once thought, and that sometimes, possibly, racing against dopers perhaps pushes clean riders to train and improve.
Wittgenstein once said about the limitations of language, "whereof one cannot speak, thereof one must be silent." Even if Froome provided his power data (as
he once did
) and gave us a sort of language with which to compare his performance with the performance of dopers past, it would not answer the question of whether he doped.
It's mere speculation to infer cause from effect, but that doesn't mean we should, as Hunter Allen urges us, to "shut yo mouths." If there's one thing to keep dopers on edge, it's the kind of scrutiny Froome has been forced to undergo. While it may be uncomfortable for him, if he is doping it must surely be downright torture.
Torture is what bike racers are paid to endure, so let them have it.